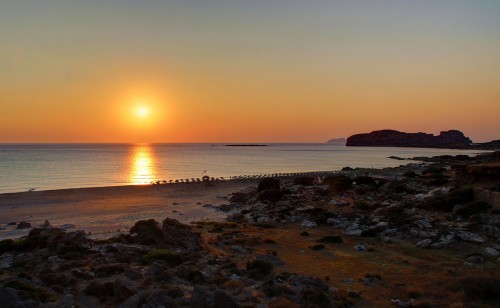 main_1a244-falasarna_crete_sunset
Where the blue sea sculpts the shore. Where the caress of the sand remains a memory for the whole winter.
Falasarna is located on the west coast of Crete 59 kilometers west of Chania and 12 kilometers west of Kissamos. . In Falasarna there is a small settlement that has one of the most famous beaches of the prefecture of Chania and Crete, gathering a large number of tourists every summer. Falasarna. Awarded as one of the best beaches in Europe, it still manages to keep its beauty untouched! Here, on the westernmost coast of Crete, at the Cape of Gramvousa, the deep blue waters steal something from the white shine of the sand and every grain of sand highlights the purity and brilliance of the waters.
Falasarna is today one of the most famous destinations in Crete, both for the beaches and for reasons of ecological interest. Falasarna has been included in the Natura 2000 plans, due to the variety of flora and fauna in the area but also due to its special natural beauty.