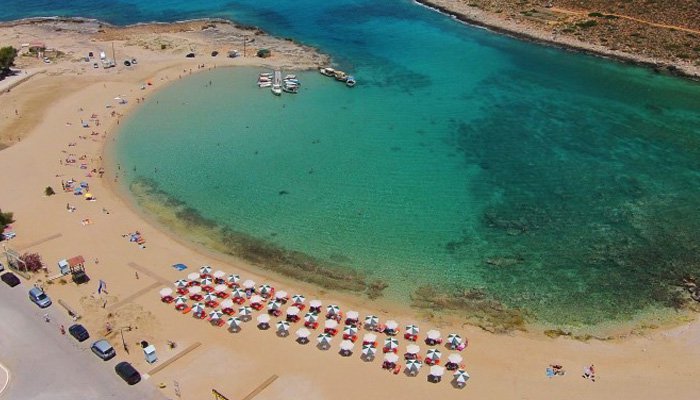 The  beach at Stavros  is one of the two beaches of the village of the same name, located 17 kilometers northeast of Chania, at the northernmost tip of Akrotiri.
The  beach at  Stavros  is a sandy lagoon, very well organized and windless, which is divided into two. The blue-green waters and the exotic beauty of the landscape will impress you.
Just 200 meters northwest of the first  beach of Stavros  lies the second. In both you find golden sand, scattered rocks and crystal clear but choppy waters. The two  beaches of Stavros  are separated by a peninsula, on which you will see the remains of the Venetian limestone quarry.
Characteristic of the  beach area in  Stavrou  is the large steep mountain in the shape of a camel that rises opposite the small port of the village. The scenes of the movie "Zorba the Greek" were shot on this mountain, where Anthony Quinn danced the famous Sirtaki in 1964.
Today the area has developed into a large tourist resort, with many hotels and tourist infrastructure.